Apex Captioning provides closed captioning and live broadcast captioning services in San Diego and nationwide.
Apex Captioning Company San Diego
Broadcast Captioning & Subtitling services in all of San Diego
Apex Captioning Company San Diego provides broadcast captioning including open and closed captioning services in San Diego as well as nationwide.
Our captioning company in San Diego also provides rolling captions.
We provide subtitling in San Diego for TV and other programs and events including film, television and digital media.
We provide raw footage transcripts as well as word accurate transcripts.
We offer subtitling services in many languages including English, Spanish, Italian, French, German, Arabic, Hebrew, Japanese and other languages.
What are captions?
Captions are words displayed on a television screen that describe the audio or sound portion of a program.
Captions allow viewers who are deaf or hard of hearing to follow the dialogue and the action of a program simultaneously.
Captions can also provide information about who is speaking or about sound effects that may be important to understanding a news story, a political event, or the plot of a program.
Captions are created from the transcript of a program.
A captioner separates the dialogue into captions and makes sure the words appear in sync with the audio they describe.
A specially designed computer software program encodes the captioning information and combines it with the audio and video to create a new master tape or digital file of the program.
we are a Real-time captioning company in san diego
Edited and verbatim captions in san diego
Captions can be produced as either edited or verbatim captions. Edited captions summarize ideas and shorten phrases. Verbatim captions include all of what is said. Although there are situations in which edited captions have been preferred for ease in reading (such as for children's programs), most people who are deaf or hard-of-hearing prefer the full access provided by verbatim texts.
Rear window captioning company in san diego
More and more movie theaters across the country are offering this type of captioning system. An adjustable Lucite panel attaches to the viewer's seat and reflects the captions from a light-emitting diode (LED) panel on the back of the theatre.
current captioning research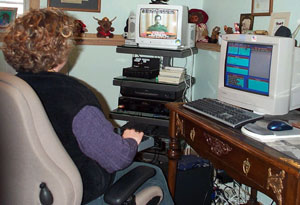 CART in San Diego and Captioning Services in San Diego
Researchers are studying caption features, speeds, and the effects of visual impairments on reading captions. This research will help the broadcast television industry understand which caption features should be retained and which new features should be adopted to better serve consumers. Other research is examining the potential for captions as a learning tool for acquiring English-language and reading skills. These studies are looking at how captions can reinforce vocabulary, improve literacy, and help people learn the expressions and speech patterns of spoken English.
Some information provided from National Institute of Health, National Institute of Deafness and Other Communication Disorders website.
We proudly serve our clients in the legal community who have relied on our litigation support services for reporting, videography, case management, and more.
If you are looking for a professional captioning company for live broadcasts, captioning for newscasts, captioning for stadium events or any other live or pre-recorded program, you have come to the right place.
Call Apex Captioning Company at (877)871-2654 or Contact Us for all your captioning needs or Schedule 24/7 Online.